Nine Years & Still Going Strong… Cushman & Wakefield's U.S. Economic & CRE Outlook
Nearly nine years into the current cycle, the U.S. economy is strong and getting stronger. The leading indicators that correlate well with the property markets are in excellent shape.
Of course, there is no shortage of anxiety either; there never really is. Volatility is up this year, interest rates have moved higher, the yield curve has flattened, and trade tensions are escalating. So where do we go from here?
Our mid-year outlook shares perspective on the following topics: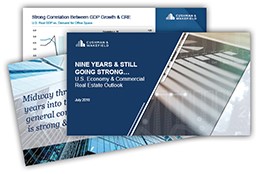 Where we are in the economic and leasing cycle
What higher interest rates mean for CRE values
The probability of a full-blown trade war and its potential impact for the property markets
How capital is shifting and what capital is targeting
Click here to download and read our latest economic and CRE outlook to learn more.