Driverless Cars, Blockchain, and Other Transformative Technologies
While the real impact to commercial real estate is more than 10 years away for many technologies, disruption in the near term will be generated from a few—namely ridesharing, autonomous mobile robotics for eCommerce fulfillment, and electric vehicles.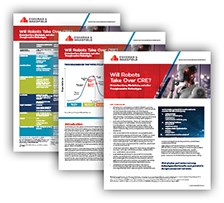 CRE players will need to focus on flexibility and efficiencies to adapt to changing paradigms brought on by technology advances. Assets positioned to evolve along with technological changes will outperform others that do not keep pace. However, such flexibility may be more costly.
First in a four-part series, Will Robots Take Over CRE? explores technologies that have the most potential impact to disrupt CRE.
CLICK HERE TO DOWNLOAD THE REPORT