Are You Prepared For Another Irma?
Hurricane Season is here again, and I certainly hope we don't have another one like last year!
Cushman & Wakefield was at the forefront of several office building floods across the state and saved many clients thousands of dollars.  Recovery is tough, but you can make it easier if you include these strategies.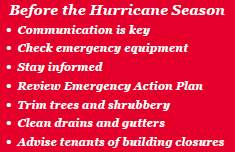 Additional Resources:
FEMA Hurricane Toolkit for Businesses>
City of Jacksonville Preparedness Guide>